The W.S. Tyler's Brand Story
For over 140 years, W.S. Tyler® has been a leader in the design, engineering, and manufacturing of woven wire cloth and mesh materials.
You may have heard about W.S. Tyler's quality products, their innovative approach or their award-winning customer service. But you'll likely remember them for their relentless passion for precise engineering. That's why at Nako-M-link, we are privileged to be one their trusted partners in representing the W.S. Tyler brand in Asia.
Particle Analysis Equipment
RO-TAP® RX-29 AND RX-30 MODELS
The industry standard in test sieve shakers, W.S. Tyler's RO-TAP® has a unique two-dimensional operation:
A horizontal, circular motion and a vertical, tapping motion. This special action allows material particles to stratify and "seek" critical openings in the test media. This unit provides the most accurate and consistent particle analysis testing.
The RX-29 model is designed for testing with 8″ diameter test sieves;
the RX-30 model is designed for testing with 12″ diameter test sieves.
Requires minimal maintenance

Features 99 minute digital timer/clock, tolerance, 0.1 second

Each unit is test run and serialized prior to shipment
RO-TAP® RX-812 COARSE SIEVE SHAKER

Designed to be used in coarse testing applications, the affordable RX-812 Coarse Sieve Shaker has the unique capability of using both 8″ diameter and 12″ diameter test sieves, simply by using the quick-change adapters provided.
The RX-812 has a quiet operation and utilizes an effective action that gives consistent, accurate results.
Designed for use with 8″ and 12″ diameter Test Sieves.

For analysis of particles US #100 (150um) and larger*.

Oscillating movement only.

Supplied with adaptor for 8″ and 12″ Test Sieves.

Oscillations per Minute: 280 (60Hz); 231 (50Hz).
*Not recommended for analysis with particles 150 micron (100 mesh and finer)
and smaller.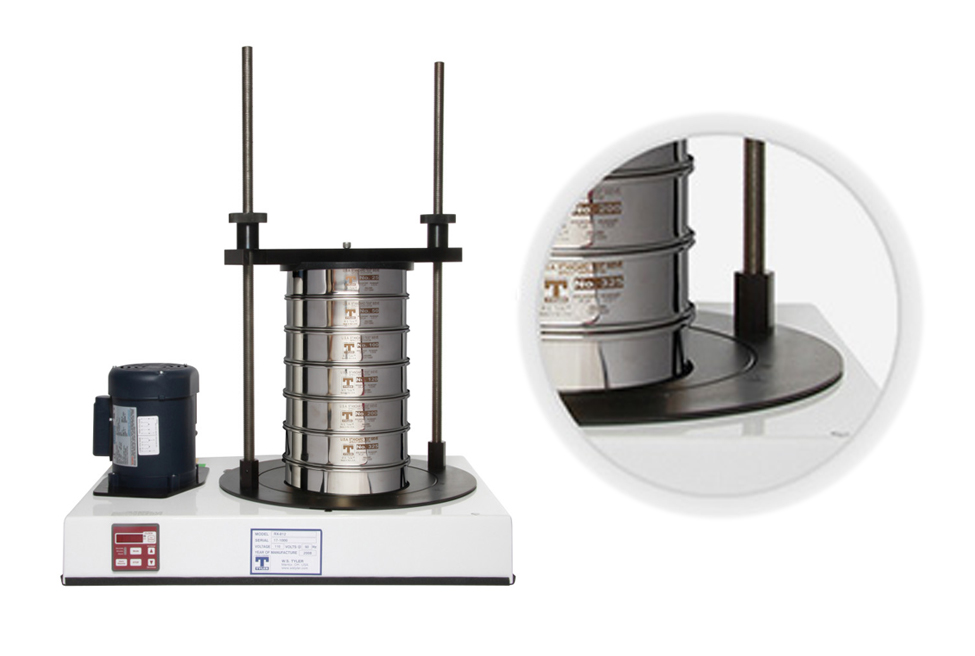 SPECIFICATIONS:

RO-TAP® RX-94 DUO MODEL
RO-TAP® RX-94 Test Sieve Shaker utilizes the same traditional design as the RX-29 and RX-30 models. In addition, the unit features a cavity that allows for two stacks of 8″ diameter Test Sieves. This allows for twice the processing capacity in nominally the same time required to complete one test.
Designed for use with 8″ diameter Test Sieves only.

Testing application: 2″ down through 635 mesh (20 micron).

Newly designed easy lock clamping system.
*Not recommended for analysis with particles 150 micron (100 mesh and finer)
and smaller.
SPECIFICATIONS:

RO-TAP® SIEVE SHAKER ACCESSORIES
To ensure lasting dependable service, RO-TAP® Sieve Shakers must occasionally be upgraded with parts that are long-wearing, durable, and cost-effective. Maintenance kits are available for the replacement of parts due to normal wear and tear. W.S. Tyler – recommends the use of these kits as a means to minimize down-time due to minor repairs. The purchase of a minor maintenance kit is also recommended with each new RO-TAP® Sieve Shaker.
RO-TAP® SOUND ENCLOSURE CABINET & TEST STAND
Designed to be used exclusively with RO-TAP® Sieve Shakers, operating noise levels are reduced from approximately 85 dB to 78 dB. The cabinets are fabricated with 18 gauge steel and a 1″ metal faced, acoustic foam inner liner.
Specifically designed for RX-29 and RX-30 Ro-Tap Sieve and RX-812 Coarse Sieve Shaker, the Ro-Tap Test Stand can be used with or without the Sound Enclosure Cabinet.
Allows for relatively fast, simple installation and set-up of the Ro-Tap Sieve Shaker.

Attractive, sturdy steel construction, with anchorbrackets for fastening to floor or foundation.

Allows for optimal use of available laboratory space dedicated to test sieving.
SPECIFICATIONS:

RX-20 Rotary Sifter offers classic design and efficient operation in an economical package. A proven sieving method preferred by many DOTs, based on a popular design developed many years ago. The Rotary Sifter offers a faster conversion from 8-12 inch or 200-300mm diameter sieves. The sieve stack capacity ranges from six 12 inch diameter full height sieves with pan or up to twenty 8 inch diameter half-height sieves with pan.
The totally enclosed cabinet allows safe, dust-free operation. Individual tapping hammers assist passage of near-size particles. The digital timer has an LED display which precisely times operation up to 99 minutes at +/- 1 second. The system is driven by a 1/3hp continuous-duty motor.
Estimated ship weight: 215lb
SPECIFICATIONS:

Produces ultrasonic vibrations in a cleaning fluid bath, which causes contaminants to become dislodged from both sieve frame and media.
8″ or 200mm diameter test sieves only

Stainless steel oscillation tank

Solution not included (mild detergent recommended)
SPECIFICATIONS:

Allows for testing in a wet environment when material is not soluble in water. (Kit does not include RO-TAP® shaker)
For use with W.S. Tyler Ro-Tap RX-29 and RX-94 Sieve Shakers.
SPECIFICATIONS:

Reduces or halves material samples for making sieve tests. The Splitters maintain representative particle size distribution while reducing the original sample size.
SPECIFICATIONS: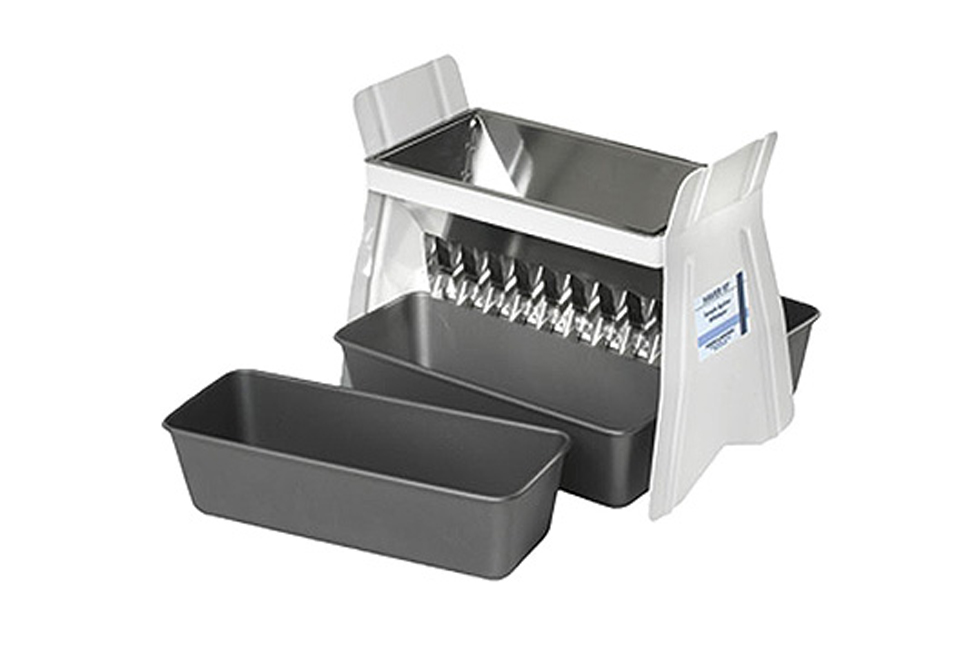 The RX-230 Spinning Riffler uses a vibratory feeder to provide a constant flow of material from the stainless steel hopper. The vibrating feeder then feeds the sampling tubes from 1 to 16 individual samples. Each sample can then be capped and stored immediately, with minimal handling and little chance for outside contamination.
Spin riffling is the method of choice for sampling accuracy and reliability for dry, free flowing particles. This unit will virtually eliminate operator error and bias associated with other types of sampling devices.
The RX-230 Spinning Riffler includes a sixteen-port dividing head, a set of sixteen standard tube sample vessels, a sample drum to contain the vessels and a hopper plate for positioning the vessels in the drum. All of these parts are available as replacement parts.
SPECIFICATIONS: